TRUTH MEMORIAL DAY 2014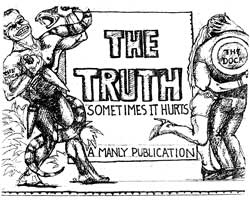 WITCHES' COVEN
East Hampton Town Police arrested Linda Barnds, Rory Finazzo and Kathleen Beckman while they danced around a fire at midnight in the woods at Navy Road. The charge­ an open fire in the woods, a misdemeanor, could be upgraded to a felony, detective Grenci confided to this reporter, if witchcraft charges can be proven. A DNA test of the dead chickens found hanging in the trees is being done to determine whether the chickens belonged to the Red Hot Chili Pepper drummer. Charges of breaking and entering could be added. One chicken had a photograph of Jimmy Barnds glued to its head. Linda Barnds, who appeared to be in a catatonic state confessed to police that in order to belong to the club it was necessary to "hate men."
PHYLLIS BAG­A­DONUTS
Police were called to 287 Flamingo where they found a whimpering pathetic white male, Phil Baigent, with his penis severed off. A blood covered U.S.M.C. K­bar knife was found at the scene. Detective Grenci said tests were being done to determine if the K­bar knife was the same one used to slash Phil's tires last year. Detective Grenci found Phil's penis in the abandoned pet cemetery next door. The cemetery belongs to slum lord Paul Page. search for Phil's penis took all night because it was so small. Phil told police he didn't know who severed his penis but thinks it was the same black clad ninja who did in his tires last year.
7 FACES OF EVE
Congratulations are in order to the new addition of the Noll family­ Steven­ a healthy baby boy. I know from looking at the two Noll parents it was hard to determine which one was pregnant. However, it was the lovely Esther who left Jack in the first trimester and took off for England with daughter Maisy to get away and give birth in peace. Jack meanwhile remained at home doing nothing but drinking beer and watching internet porn. Jack confided in this well­hung reporter that he found it difficult to ejaculate without physically fighting and having someone screaming at him. Esther told me that the window of happiness after being re­united with Jack slammed shut in 36 hours. The thing I admire most about chubby Jack is his ability to segue into compartmentalized different lifestyles. Since I first met Jack, he's gone from cabin boy for the Apernaths, to the town drunk, to Florida sporty fly fisherman to town drunk to angry repressed closet homosexual to town drunk to loving husband then back to stumble bum. Jack's latest incarnation is that of celebrity builder. I expect to see Jack walking around with an ear bud any day now.
IRISH KEVIN
The filthy Mick (plus 20 or 25 lbs) is back from the European continent after spending all the U.S. dollars he stole from hard working pool­loving Americans. Obviously if you've seen his half naked wife/girlfriend, Marie Julie Chagneau aka Napolean, at work I'm sure you'll agree, absolutely nothing in their relationship has changed. Not only does Julie have the tits, she's also got the balls in that relationship.
TOM CRUISE
Johnny Load showed his true colors during his fifteen minutes of fame for falling overboard. He put a knife in his partner's back before throwing Anthony under the bus and hogged the whole spotlight for himself. Load left the Polish idiot to fend for himself as he and his girlfriend, Laurie Z, high tailed it to the west coast to live the high life. John basked in the spotlight of the "most interesting men in the world" seminar while Little Anthony was left at home to spin the wheel on his uni­cycle. If it wasn't for Little Anthony, Johnny would just be another fisherman. Why wouldn't Johnny want to be seen on national TV with Little Anthony?
THE BANK DICK
I happen to pass John McDonald on Essex Street as he's walking his dog before work most mornings. But last Tuesday, I couldn't help but notice that John was picking up dog shit without gloves and putting it in his crumbled suit jacket pocket. When pressed, John explained that he likes to squeeze the warm dog shit and that the freshly pinched shit smell keeps people out of his office all day at the Suffolk County National Bank. What is perhaps more troubling is John's wardrobe itself. When I asked him where in God's name he gets his outdated clothes, John said at night he breaks into the shed behind the Protestant church to score his threads.
JOHN WAYNE GACY
Has anyone seen Dave Krusa recently? Can you believe some poor unfortunate bastard is building a home next to Dave's house? Shouldn't the Citizens' Advisory Committee, the Chamber of Commerce, the Catholic Church or one of the neighbors, like Richie Becker, step in and stop the sale of the property? God forbid this poor unsuspecting soul thinks he's moving into a normal neighborhood. Wait until the new neighbors see Dave naked in broad daylight working on his clam boat or practicing his pole vaults.
MARK MESSIER
Donna Etzel, Captain Rick's lovely wife, is concerned that if the Rangers don't win the Stanley Cup Rick might possibly commit suicide. Donna says Captain Rick just sits in the bedroom masturbating and screaming obscenities at the TV set while watching Ranger re­runs. The most disgusting part is when Rick kisses and licks the TV whenever Mark Messier appears. Donna blames Captain Rick's behavior for her son's cursing at the student athletes at the high school. Captain Rick has stopped sailing and even refuses to leave the bedroom to check on his boat. In addition to supporting the family, Donna now has to go down to the dock and make sure the "Breakaway" hasn't sunk at the dock before trudging off to her full time job at the school. Rick apparently has no shame and can't even hold down his part time job.
THE SWEENEY SISTERS
I happened to encounter Mary and Julie at Gosman's Restaurant on Mother's Day. When asked about the whereabouts of their spouses, both sisters agreed they left them home so they could celebrate and enjoy the day unencumbered. Mary told me in confidence that she now employs her husband, Brian, at minimum wage as a night watchman to water the plants and make sure the deer don't eat the flowers. "Besides," Mary said, "It keeps the psycho out of my hair." Apparently the apple doesn't fall too far from the tree. Wilson told this reporter that Johnny Persan, a.k.a. The Big Head Detective, showed up at dawn to help his mom in the flower shop after a night of partying.
LAW WEST OF PECOS
B.J. Wilson is about to realize his dream. He has rented the former Pier One Restaurant and is adding on an apartment. Now his girlfriend Pam can live there and work the night shift when she's not hostessing at Gosman's. B.J. says that since he's going to rent out both his houses for the summer season, Pam needs someplace to live and something to do at night and on her one day off. "It's a win­win­win situation for everyone." B.J. and Craigo plan to share an apartment with four Russian Tchotchkes that can't speak a word of English. The new bar restaurant will be called "Local Justice" and everything will be free for the locals.
THE WRECK OF THE HESPERUS
Tommy Tangles ran aground while his boat was in dry dock at the Montauk Marine Basin. Tom's sailboat keeled over and was marooned on top of a Chevy Blazer for the winter months. Tom claims the Marine Basin is responsible for damages to his vessel. Carl Darenberg blames Tangles stating Tom was having rough sex on board with an unidentified white hog he picked up at Liar's Saloon on Christmas Eve causing the sailboat to fall over.
The Montauk Fire Department responded to Navy Road last Sunday after repeated 911 calls from tourists claiming a fat man was attempting suicide with two dogs in his van. Jimmy Hewitt, who was enjoying the sunset, thought police and first responders were arresting him for smoking marijuana. Police said Hewitt was parked in the breakwater with waves crashing over the van. Jimmy told doctors at the psychiatric hospital that he was wondering why his van was flooding and his feet were getting wet.
HALF MAN
Brennan Stein is missing. Jen McCarthy told police that she put Brennan in her handbag and went shopping at the K-Mart in Bridgehampton. Ms. McCarthy said she left her handbag containing her wallet and Brennan in a shopping cart and went looking at the training bras on sale. When she got back, Brennan and the handbag were missing. Jen issued a plea to thieves stating they could keep the bag and wallet, but please return Brennan. Brennan can be deposited in any mailbox with no questions asked.