MAURA EATS CROW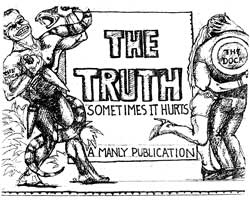 MAURA EATS CROW
Maura Donahue is back toiling at The Dock Restaurant after vowing never to return. "Never say never" the ruggedly handsome Mr. Watson reminded this reporter. Not one to gloat, George served up and extra large portion of Steamed Crow (with feathers) to Maura at the employee meal. When Maura asked for something to drink so she could wash down the crow, the altruistic George handed Maura a large glass of Vinegar laced with salt. Maura had to buy new Dock shirts as she said all of hers had been damaged in a fire. The benevolent Mr. Watson, feeling sorry for the struggling artist has commissioned Maura to make new pottery for The Dock as all of hers has been inexplicably smashed. Maura, asking not to be quoted, admitted that she "came back for the sex."
JACK NOLL- THE CHEAPEST MAN IN MONTAUK
Jack Noll won the Golden Yarmulke Award at the Annual Bartenders Convention, which was held at the Montauk Downs. Last week, Jack, who has never been known to put anything larger than a $5 bill on the bar, wrestled the Yarmulke from three time champ Billy Joel. Jack was voted the overwhelming winner because he never paid for a drink during the 1998 season. Jack's Modus Operendi is to unashamedly allow his drinking partner, usually a homosexual or a woman, to pick up the tab. When asked what he thought of coming in second, the Piano Man uttered "Goyem bastard! I'll be back." Lee Bieler from the Blue Parrot in East Hampton came in a distant third. Lee has been known to steal change from the girls' tip cup at Naturally Good.
TRICIA LARRABEE OFFICIALLY BECOMES A WATSON
Tricia Larrabee who has been living at the Watson Estate in upper Shepard's Neck is now officially a Watson. Mr. Watson was deeply concerned when his son James announced his intention of marrying Tricia, who hails from the backwoods of Elmira, N.Y. George didn't want an "Apple Knocker" as a daughter in law. Afraid of having a Hillbilly in the family, Mr. Watson devised a simple ingenious plan to drive Tricia from the Watson Casa. He would simply be himself. The litmus test came last Wednesday night after The Dock Beach Party. Mr. Watson, who had been drinking heavily and doing "40 second keg stands" came home and passed out on the couch. A short time later Tricia and several of the sons were awakened by the sound of someone urinating in the hallway. Turning on the hallway light, Tricia discovered George hosing down the walls. "She didn't blink and eye," Mr. Watson stated. "I knew I finally had the daughter I always wanted." Mr. Watson claimed as he always does when caught red-handed that he was having a Vietnam/Police Department/Fire Department flashback..
JOHN BEHAN LANDS POLITICAL PLUM
John has finally landed the long awaited political job he has been hoping for. After twenty years of faithful party service and promises from his good friends Governor George Pataki and Perry Duryea Sr., John got the job he always wanted. When asked why it took so long for the job to come through, John said, "the problem was, I needed a cash job, off the books, so as not to screw up my pension." John is making $3.50/hour driving a forklift at the Montauk Fish Dock. "It's a challenging job," said John as he loaded hundreds of wooden pallets and garbage onto the narrow strip of town land between the Montauk Fish Dock and The Dock Restaurant.
BLUE PARROT- OLDEST RESTAURANT IN THE HAMPTONS
Roland J. Eisenberg, Co-owner of the self proclaimed "oldest restaurant in East Hampton "blew his own horn in between a N.Y. Times book promo for the inebriate James Brady and Jodie Della Femina's Betrayal Book of the locals. Roland, a shrill, hucksucher, bunko artist, so excited at being interviewed in the N.Y. Times, claimed the Blue Parrot is older than the 1770 house. To back up his claim of being one of the oldest restaurants in the hamptons,