THE CHUCK STEAK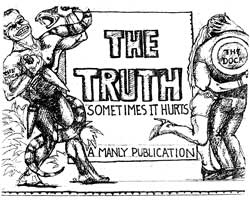 THE CHUCK STEAK
Chuck and Pat Weimer were sharing a romantic moment together having dinner at The Wong when things went astray. Pat had ordered her favorite "Steak Au Poivre" and Chuck decided to forgo dinner and have fifty beers. For whatever reason, Pat stormed out of the place leaving Chuck sitting there wearing the Au Poivre sauce with the steak on the floor. Chuck in his repetitive way asked Jimmy to wrap the steak up fifteen times as Pat might be hungry when he gets home. This is a small town, so I'd never ask anyone to take sides in a family argument, but who do you feel most sorry for in that relationship???
CUPID LETS ARROWS FLY AT LIARS
Details are sketchy at this moment, but rumors are rampant. Has Vinny senior fallen in love once again? As soon as we can track down The Truth this reporter will let you know.
SCHOOL BOARD RE-COUNT
Poll watchers became suspicious when Dan Stavola garnered over 100 votes last Tuesday. Knowing there was no way Dan could legitimately get more than 15 votes, officials asked for a re-count. 94 of Dan's 104 votes came from the two busloads of Hasidic Jews that were driven out from Williamsburg, Brooklyn. The Hasids claimed they were living at Ruschmeyers. The money for the charter buses came from an offshore bank account.
CYRIL KICKS HEWITT'S ASS
Jimmy claims he doesn't remember how he got the huge goose egg on the back of his head last Saturday night. Sunday morning this reporter tracked down The Truth. Both Jimmy and Cyril (Sluril) Fitzsimmons were dead drunk at the Lakeside. Cyril was flashing a bad of cash, which Hewitt kept grabbing and paying the bartender with. Cyril kept screaming "don't touch my bag." Classic 'Cyril-Hewitt' right? But there is a dark side to this story. Many patrons claimed the story to true., but others stated that Cyril was overheard in the bathroom stall with Hewitt yelling "don't touch my bag." Cyril left Hewitt in the men's room and returned brandishing a mop handle. Patrons at the bar stated that Cyril was yelling "it's Giuliani time" and Hewitt could be heard screaming. Later at the bar, another drunken Irishman overheard Cyril saying in Gaelic that he "broke a man down."
SUNSET POINT OPENS
Jeff, the Maitre'D from Johnny Marlin's is at the helm of the former Windjammer. Sock is still involved in the operation, the place is pretty much the same except the menu has been updated- sort of a Sock meets Johnny Marlin in a dark alley.
TOMMY CHRISTMAN WINS CONTEST
Tommy "Bluto" Christman took first place at the Montauk Manor last weekend for the "male with the nicest tits" contest. Tommy won a size 44 D-Cup playtex bra. Most of the males in the audience said if Tom had more hair, they would take him out for dinner and sex.
THE WRATH OF BO
Mr. Watson made a costly error of incurring the wrath of Bob "Bo Bo" Bagoze. George became suspicious when Bo Bo was conspicuously absent from The Dock since the latest release of The Truth. Knowing Bo Bo's past, Mr. Watson became concerned and hired SCAN Security to keep an eye on The Dock. Last Wednesday SCAN discovered that Bo Bo had moved The Dock Restaurant to the top of Flamingo hill using an elaborate system of block and tackle. Mr. Watson has apologized profusely and promises never to print another article concerning Bo Bo. The building has since been moved back. The article about the Turkeys with no ass feathers has been canceled.
PRAYERS FOR KEVIN
When you go to church on Sunday this paper wants everyone to say a prayer for the Dwarf. Kevin has a herniated disk in his back. If they operate and remove the disk, Kevin will be less than three feet tall.
JACK NOLL RETURNING
Jack (Jack-O) Noll will be back in Montauk after spending the winter in Florida. Jack is seeking a female companion interested in a turbulent shor