"BLIND DAVE" MAN OF THE YEAR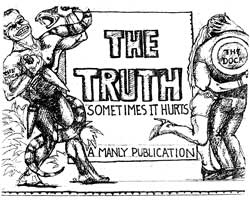 "BLIND DAVE" MAN OF THE YEAR
Laurie Costello from the Montauk Chamber stated that applications for the 1999 Man of the Year are closed. "Blind Dave" who drives for Pink Tuna taxi is this years overwhelming winner. Dumbfounded as to why, Laurie stated that the phones started to ring off the hook last Saturday. Every member of the Chamber called in to vote for Dave. Several bar owners attempted to vote for Dave three to four times.
CHUCK GETS NEW NOSE
Chuck "Wheat" Morici has been seen around town looking like Cat Balou. Local artist, Maura Donahue was commissioned by the "Wheat" to make him a ceramic nose. Maura did the job in record time and charged Chuck $1.27 for the new proboscis. Asked why the price was so low, the bashful Maura stated, "It wasn't my best work, besides when I was removing it from the kiln, I dropped the hooter and cracked the left nostril. Now it looks just like Tommy Christman's nose."
JOHNNY GALLO QUITS FISHING
John "Train Spotting" Gallo was pulled over by police while driving Julia "Chardonnay" Bartlett's car. The police, using Drug Profiling, just assumed John had stolen the auto. John claimed that he and "Luvy" are lovers. Julia is in England and was unavailable for comment. Alcohol makes people do stupid things. Let's just hope Julia didn't make the big one. John plans to do Whale Watching this summer from Slow Bob's boat The Heather Nicole. The degenerate crack addict's blueprint is to keep Bob's boat moored in Coons Foot Cove and row his customers over to Salivar's for a walk through. John claims there are always a few Whales at the bar. In addition to Whale Watching, John is also an instructor at BOCES. John will be teaching free basing on Wednesday nights at the High School.
JACK O'DAY ENGAGED
Career criminal Jack O'Day popped the question last week to his beloved on local TV Station Channel 27. While appearing on the "Ask Henry" show. Jack gave his wife to be, Phyllis, a 350 lb. African American, a brass nose ring instead of the traditional diamond engagement ring. The host of the show, Henry, asked Jack if there could be any possible ulterior motive for the engagement, since Phyllis is Jack's parole officer. Outraged at the insinuation, Jack stated that he would not marry Phyllis until he gets off probation in 2036.
LITTLE KEVIN ARRESTED AGAIN
Police were called to the Fallon residence on North Farragut Road to quell what was termed a disturbing the peace incident. The "Sex Dwarf" who had just finished his twelfth pot of coffee, refused to quiet down when asked by police officers. Detective Bobby Reich claimed that Kevin kept singing The Doors song, "Love Me Two Times Baby" to his right hand at the top of his lungs. The Dwarf has been ordered by Town Court to seek psychiatric help.
POLITICAL ACTIVIST ARRESTED AT GRAMMAR SCHOOL
Former Restaurateur turned Activist. James "Stephen Biko" Hewitt and his walking partner Lee Ann "The Wildebeest" De Pasquale were taken into custody after they called in a bomb threat at lunch time at the Montauk Public School. Police found Jimmy and "The Wildebeest" wolfing down the children's lunches in the vacated office. Lee Ann confessed to calling in the bomb threat because they were walking past the school and she was hungry. Now that Peter Hewitt has gone off the Southern Comfort diet and is starting to resemble a human being, Lee Ann is worried that she'll be the only fat person behind the bar at the "Wong". Lee Ann plans to go on the mashed potato diet that worked so well for Cousin Paul.
KENNY "YO YO" FISCHER
Need I say more? We've all heard about people being cut off at bars, but Kenny is the first person I know of to be cut off at a hardware store. The hairless foul-mouthed tattooed ogre has been blacklisted by B